Our Story
How we met!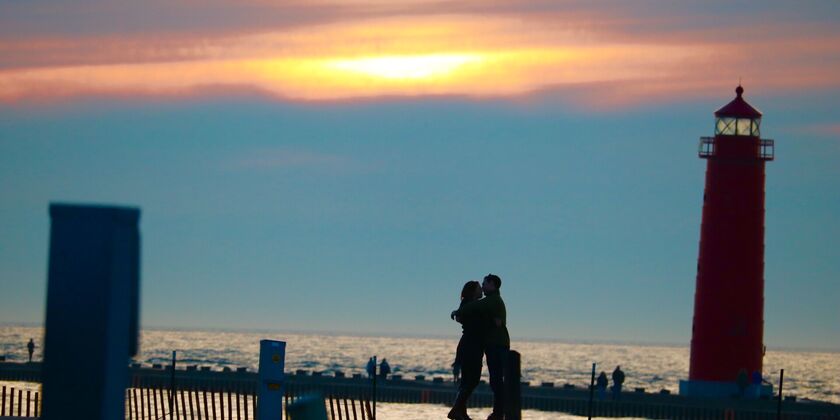 Brian and Ann met at Lake Front Brewery in Milwaukee. Ann was visiting her best friend, Lauren, for summerfest. Brian asked his hometown friend Brad, Lauren's husband, to meet up at the brewery after the tour. Brian was the only person Ann had ever met that could rival her story telling abilities.
Ann and Brian did not exchange numbers, but luckily he, Brad, and Lauren met up over Thanksgiving in Brad and Brian's hometown of Escanaba. Lauren gave Brian Ann's number and they started talking.
It wasn't until that following July they went on their first date. They met for lunch at the Peanut Barrel at MSU. Ann left the date with her face hurting from smiling and laughing so much.
They continued going on dates in both Lansing and Royal Oak, and slowly met each other's friends.
Brian made a huge change and switched jobs to try to be closer to Ann. They made things official in April 2016 with a proposal during their spring break. Brian proposed on the Grand Haven Beach at sunset. It was magical.
They got to celebrate with family and friends which made it all the more fun.
The Wedding
Saturday, July 14, 2018
11:00 AM
Attire: Formal
Ceremony
St. Philip Neri Catholic Church
11411 S Lacore Rd, Empire, MI 49630
Reception
Hagerty Center At Northwestern
715 E Front St, Traverse City, MI 49686, USA
Wedding Party
Molly Bolton - Matron of Honor
Molly is Ann's older sister and oldest friend! Now that they only live a few miles apart, they get to have time to hang out. Molly was the first one to teach Ann how to be a mermaid, how to ride horses, and actually "clown" around. Now they have become really good at drinking wine and beer. They also enjoy trivia and laughing at the funny things Ann's nieces and nephew do and say!
Lauren Gauthier - Maid of Honor
Lauren and Ann met as Freshman at MSU. They were suite mates and bonded over TV, chocolate, and cheese :) She always was ready to go on an adventure. Lauren is Ann's best friend and help introduce Ann and Brian by giving Brian Ann's number over Thanksgiving. She got her wish to have Ann marry a Yooper, just like her!
Colleen Bolton - Bridesmaid
Colleen and Ann met at a U of D Homecoming event. They extended their fun by going to a Red Wings game. Chili, pizza, and hockey no only solidified Ann and Colleen's friendship, but Ann's Brother also found these to be qualities to make Colleen Ann's sister. Zack (Ann's brother) and Colleen were married in April 2016.
Jackie Gross - Bridesmaid
Jackie and Ann met Freshman year at MSU. They lived on the same floor a room apart. Throughout all the fun at MSU, Jackie decided to move to Chicago. Fortunately for Ann, Jackie moved back and live only a few miles away. You can find Jackie and Ann laughing about something (usually an inside joke) whenever they get together.
Aimee Wilson - Bridesmaid
Aimee and Ann met in kindergarten. They also were roommates all throughout college. Ann is the most excited for Aimee because she is Kitti'ned married. Nothing makes Ann more happy than Aimee's happiness. It is amazing to see your oldest (non family) friend grow up and get all the things you deserve!
Christine Harder - Bridesmaid
Christine and Ann met through their mutual love of Lauren. When Ann and Christine get around each other it's best that there is a babysitter. These two know how to have some fun. Anyone that knows Christine knows that she has the ability to make you feel like the most important person in the world. Ann cannot wait for her to move back home!
Liz DeVine - Bridesmaid
Liz and Ann met back in college. Even though they didn't attend the same school, they had so much in common. Liz has always been there for Ann whenever she needed a friend. Liz also is the best baker in the world, always making sure Ann has a nice supply of cake balls. Wine night with Liz are always a blast!
Jess Smith - Bridesmaid
Jess and Ann met through Christine. The friendship started out because they both were runners. Eventually they realized they had a lot in common. Jess and Ann were briefly roommates which was a blast. Jess also is not afraid of Hercules (ann's dog) or his massive amounts of slobber. Jess is one of the most selfless people Ann has ever met.
Kristie Bonkowski - Bridesmaid
Kristie is Ann work Best Friend. Ann would not be able to make it through the work week or even work day without Kristie. She is always there to make Ann laugh and support her, whether it's about a student or what boots to buy, Kristie always knows best.
Brad Gauthier - Groomsman
Jake Trombley - Groomsman
Andrew Plouff - Groomsman
Brandon Mooradian - Groomsman